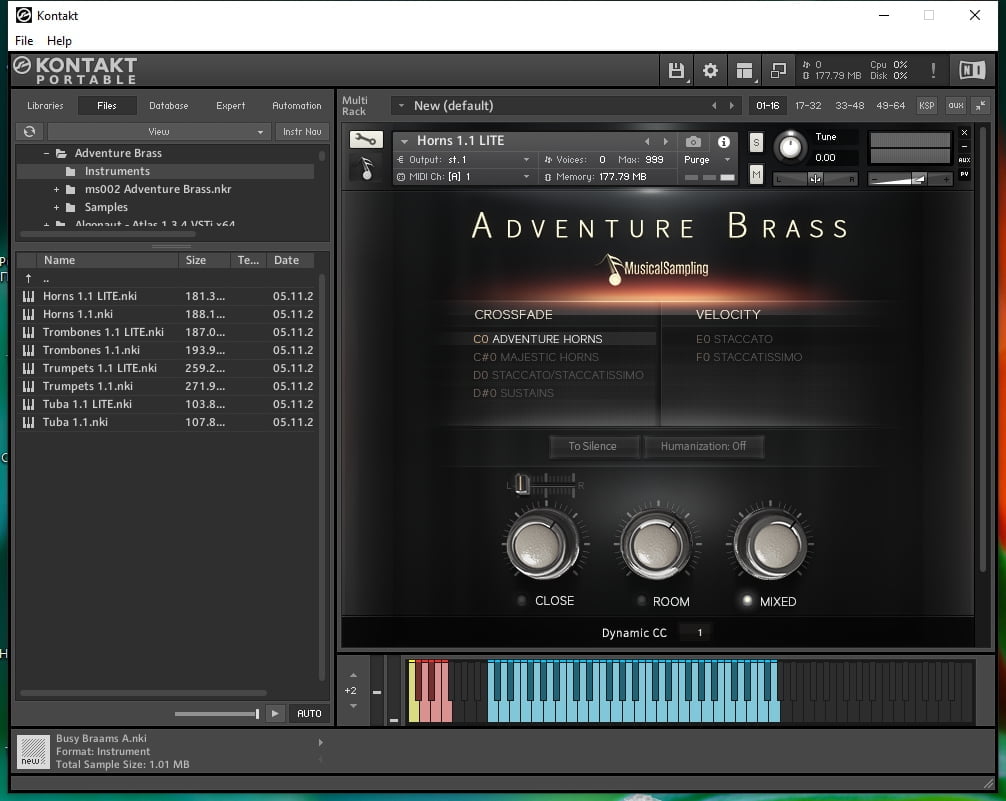 Publisher : Musical Sampling
Website : musicalsampling
Format : KONTAKT 5.5.1+
Quality : 24 bit 48 kHz stereo
Description : "Adventure Brass" was recorded on "The Bridge" in Los Angeles, a famous scene that, since its opening in 2010, has oversaw various projects on television, in movies and in games.
Starting with the very best in Los Angeles, the goal of this release was to create a true brass library that would be fun to play in the first place.
Using our Morph Stacking programming techniques, Adventure patches let you execute lines on the fly without switching keys. Combined with two intuitively programmed attack options, the ability to spontaneously create bold copper melodies has never been so easy.
We recorded medium-sized sections designed both in unison and for harmonic passages with plausible transparency, even when moving between dynamic layers.
New in Version
+ Adventure and Majestic Patches are now up to 2.5x more efficient with polyphony than the original versions.
+ Included LITE patches of each instrument, which deactivates the release triggers and cuts down the overall polyphony count up to an additional 33% with the Adventure, Majestic and Sustain patches.
+ Vastly-improved performance with Kontakt AU in Logic.
Content:
* Recorded at The Bridge in Los Angeles.
* Section sizes: 2 Trumpets, 4 Horns, 2 Trombones, 1 Tuba.
* Morph Stacking programming allows any note length to sound natural.
* Recorded in traditional seating arrangement.
* Adjustable Humanization feature.
* To Silence feature.
* Solo Trumpet Overlay feature.
* True playable repetitions for trumpets.
* Three microphone positions: Close, Room, Mixed.
* Recorded in 48khz / 24bit.
* 9.8 GB uncompressed (6.3 GB compressed NCW format).
* Compatible with Kontakt 5.5.1 or higher (requires full version of Kontakt)

Horns crossfade patches
Adventure horns
Majestic horns
Staccato / staccatissimo
Sustainains
Horns velocity patches
Staccato
Staccatissimo
Trumpets crossfade patches
Adventure trumpets
Majestic trumpets
Staccato / staccatissimo
Playable repetitions
Sustainains
Trumpets Velocity Patches
Staccato
Staccatissimo
Playable repetitions
Trombones crossfade patches
Adventure trombones
Majestic trombones
Staccato / staccatissimo
Sustainains
Trombones velocity patches
Staccato
Staccatissimo
Tuba crossfade patches
Adventure tuba
Majestic tuba
Staccato
Sustainains
Tuba velocity patch
Staccato