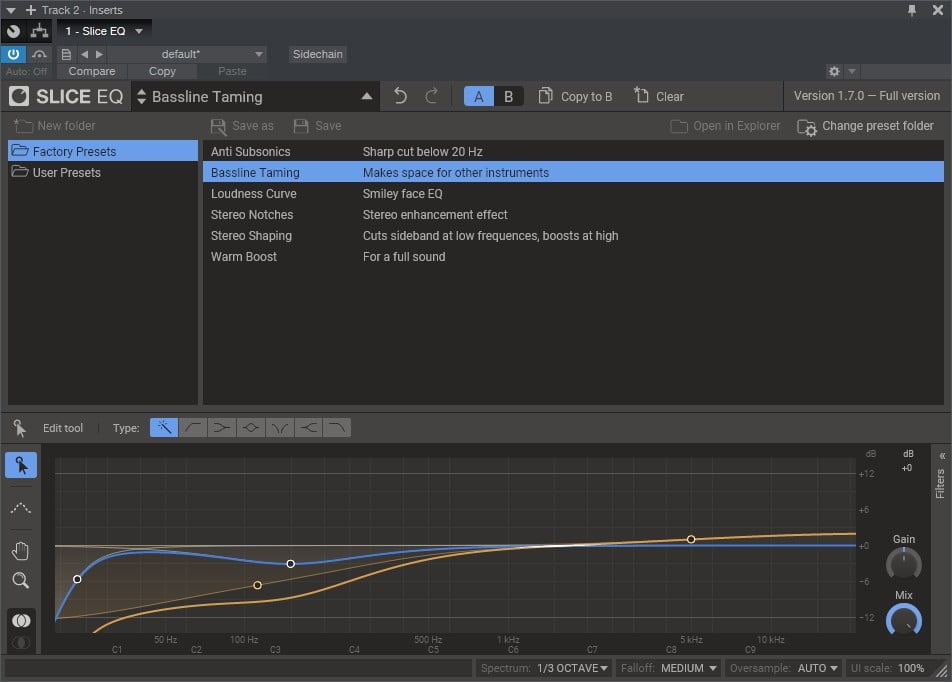 Year / Date of Issue: 07.2020
Version: 1.8.5
Developer: kiloHearts
Developer site: kilohearts
Format: VST, VSTi, VST3, AAX
Bit depth: 64bit
Tabletka: cured
System requirements: Windows 7+, cpu: 2 GHz or faster, mem: 1 GB or more
---
Description: The last step of a long journey …
Kilohearts Toolbox ULTIMATE includes everything for additional host capabilities to take full advantage of the benefits you now own. Experience the flexibility of endless combinations between effects and host plugins!
Kilohearts plugins still support modular workflow (except kHs ONE). This is why we created the ULTIMATE Kilohearts Toolbox, which gives you everything we've ever released so you can shine in different ways.
Explore hundreds of professional factory presets in these plugins from a variety of professional craftsmen around the world before you start modifying and creating your own.
Includes :
Carve EQ.dll
Disperser.dll
Faturator.dll
kHs 3-Band EQ.dll
kHs Bitcrush.dll
kHs Chorus.dll
kHs Comb Filter.dll
kHs Compressor.dll
kHs Delay.dll
kHs Distortion.dll
kHs Ensemble.dll
kHs Filter.dll
kHs Flanger.dll
kHs Formant Filter.dll
kHs Frequency Shifter.dll
kHs Gain.dll
kHs Gate.dll
kHs Haas.dll
kHs Ladder Filter.dll
kHs Limiter.dll
kHs ONE.dll
kHs Phase Distortion.dll
kHs Phaser.dll
kHs Pitch Shifter.dll
kHs Resonator.dll
kHs Reverb.dll
kHs Reverser.dll
kHs Ring Mod.dll
kHs Stereo.dll
kHs Tape Stop.dll
kHs Trance Gate.dll
kHs Transient Shaper.dll
Multipass.dll
Phase Plant.dll
Slice EQ.dll
Snap Heap.dll
Unison
New in version :
Added VST3 support
Fixed a problem where some popups were canceled by clicking outside them when they shouldn't be.
Fixed a problem where the "edited" asterisk in the top bar was not removed properly when saving.
Fixed a problem where config files could become corrupted and get stuck in this corrupted state.
Pitch Shifter
Added an option for Latency compensation allowing more compensation at the expense of more latency, or no compensation to get zero latency in the dry signal.
Snap Heap & Multipass
Fixed a problem where ADSR envelopes sometimes did not update the state of their gates as the threshold level was adjusted.
Phase Plant
Added multiple Unison modes, allowing both more control of regular Unison as well as additional creative and chord Unison modes.
Added support for Unison on the Sample generator module.
Added "Normalize Global Peak" and "Normalize Frame Peak" fixes in the Wavetable Editor
Added "Center" and "Range" knobs to the Note modulator allow tweaking of the range
Reworked the layout of the generator modules to give more space to the displays, and hide away complexity when not used.
Fixed a problem that caused modulation envelopes to not get retriggered at the correct times in monophonic patches.
Fixed a problem where Gain and Mix was not modulated properly on Poly lanes.
Fixed a problem where browsers would not understand files with the wrong extension case.
Fixed a layout issue that could cause the status bar to go off-screen when the preset browser is open.
---