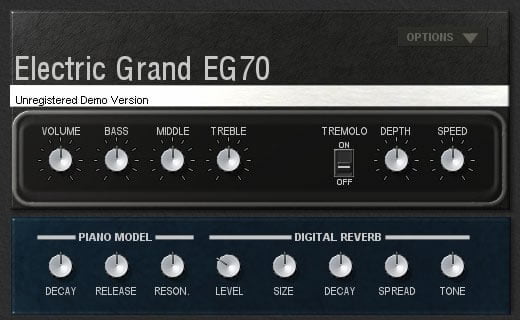 Electric Grand EG70 is a physical modeling simulation of a CP-70 electro-acoustic baby grand touring piano. EG70 has a very natural response to keyboard dynamics and to the player's style. You'll hear the benefits of physical modeling mostly when the sustain pedal is in use. The sound is warm and metallic at the same time, unpredictable, rich and natural like only a real piano can be.
Main features:
Full Polyphony (73 notes).
Adjustable sympathetic resonances.
Realistic response to keyboard dynamics.
Adjustable global tuning.
Four dynamic curves available.
Realistic control panel with active EQ and Tremolo effect.
Stereo tremolo mode (auto-pan).
Adjustable note decay and release lengths.
Built-in stereo digital reverb.
On-screen help tips and readout values.
Low memory and CPU power needed.
Easy MIDI-Learn feature.
INSTALL NOTES
1) Run EG70.exe to install.
2) Overwrite EG70.dll in install dir with the one in Crack.
3) Load plug and enter anything to register.
4) Try the soft.
5) Buy the soft.
6) Enjoy!!