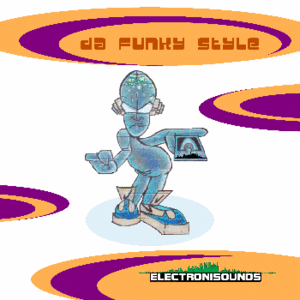 Publisher : Electronisounds
Website : vstpro.ru
Format : WAV
Quality : 16 bit 44.1 kHz stereo
---
Description :
Da Funky Style is a collection of slower tempo loops & sounds. Many styles are represented here from trip hop, chill-out and lo-fi, to hip hop / hip bop and experimental – you'll find everything you need to keep your head bobbin 'in this sample collection. If you're into electronica slow jams and downtempo trip-hop excursions, you've just hit paydirt! A wide variety of tempos is represetned on this disc – with loops ranging from 110bpm down to 86bpm.
Content:
DETAILED DISC CONTENTS:
——————————-
Drum Kits Folder – 24MB, 222 samples in 7 drum kits
Drumloops Folder – 236MB, 300 samples
Instrument Multi-Samples Folder – 120MB, 119 samples from 31 multi-sampled sounds
Misc.
Music Loops Folder – 95MB, 123 samples
One-Shots Folder – 23MB, 46 samples
Percussion Loops Series – 123MB, 202 percussion loops
Z_Bonus Drumkits Folder – 26MB, 221 drum one-shots in SIX drumkits: Acoustic & Lo-Fi, Jackhammer Drums, JB's NU Lo-Fi Drums, JB's NU Breaks Drums, Mello Kit # 1, Toy Keyboard Drums
Z_Demo Samples Folder – 35MB, 137 samples
Additional Information:
MULTI-SAMPLES
Ready for some sweet multi-sampled sounds to program on your sampler? Dig into these new presets, all in multi-sampled format: acid lead, acordo, astral, bellow bass, big perc synth, big timpani, crystal xylo, da funk lead, dry lead, electro core, funked lead 1, funked lead 2 , funked lead 3, glory organ, lost in space, mystery piano, orbits, pad x, pearl organ, playdoh lead, room ep, simple synth, sparkling bass, sparkling piano, spooky lead, squared, super organ, sweep lead, vanilla lead, wah lead, warm ana pad. Don't like to program out multi-samples? Simply use these sounds as one-shots!
MUSICAL LOOPS AND RIFFS
Digging into the Misc. Music Loops folder on Da Funky Style with over 100 musical loops and phrases will surely help jump-start your new tracks. We've divided the loops into two folders: 96-104bpm and 105-110bpm. Inside these folders you'll find an amazing variety of bass, synth, organ, rhodes, piano and string loops to help get your creative juices flowing – use 'em and abuse' em!
DRUMLOOPS
Using Da Funky Style, you'll get your tracks built quickly and easily with over 500 * ALL-NEW * drum & percussion loops! We've even included some vocoded drum beats to help bring some serious downtempo phunk-i-ness to your tracks.
PERCUSSION LOOPS
Digging into the percussion loops folder will provide you with over 200 programmed percussion grooves. These loops are represetned in 5 BPM's: 100bpm, 110bpm, 120bpm, 130bpm, 140bpm. You'll get: conga loops, ethno loops, funkee bongo loops, metal percussion loops, misc. percussion loops, mouth percussion loops, tabla loops, timbale loops & rolls and wood drum loops! Drop one of these over your beat of choice and get groovin '!
DRUM SOUNDS
As usual, we've packed in hundreds of * NEW * drum sounds as well – in six drumkits! We've even crammed in a folder of robo vocoded cymbals! You'll get all new breakbeat drum kits, funky drum kits, lo-fi shakers, a human beatbox collection, and even a very funky acoustic drum set recorded in an old garage – everything you could need to get YOUR funky style on! We've even packed on a folder of over 200 BONUS drum sounds! You NEED these sounds!