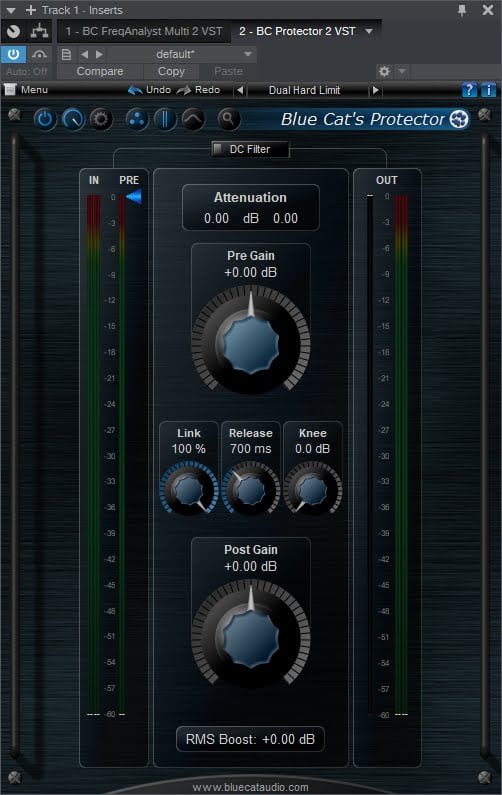 Year / Release Date : 10.2018
Version : 10.2018
Developer : Blue Cat Audio
Developer Website : Blue Cat Audio
Format : VST, VST3, RTAS, AAX * (* PT from AudioUTOPIA)
Digit capacity : 32bit, 64bit
Tabletka : cured
System requirements : An SSE2-enabled processor (Pentium 4 or newer).
Microsoft Windows Vista, Windows 7, 8 or 10 / Microsoft Visual C ++ 2012 Redistributable Package (x86 or x64)
Intel processor / Mac OS 10.7 or newer.
Description : Set of 14 plugins:
Blue Cat's Destructor v1.4.0 is a powerful model of distortion and amplifier that can simulate any overload: from dramatic digital destruction to smooth compression or simulation of a guitar amplifier.
Blue Cat's DP Meter Pro v4.1.0 is a unique audio analysis tool: it combines highly flexible and customizable audio meters with advanced chain management capabilities, thanks to MIDI and automation outputs
Blue Cat's FreqAnalyst Multi v2.2.0 – is a unique multitrack spectral analyzer working in real time: it allows you to visualize the spectral content of several audio tracks on one screen with extreme clarity and high resolution, in time and frequency. This is the perfect solution for mixing: you can use it as a frequency sensor and see what part of the spectrum each instrument actually uses.
Blue Cat's FreqAnalyst Pro v1.9.5 is a real-time spectrum analysis program with advanced features. This tool has been designed to provide extreme clarity and excellent resolution in both time and frequency. Frequency analysis can be customized to the smallest detail.
Blue Cat's Liny EQ v5.1.0 – 8-band linear phase equalizer with very short delay and comprehensive visual feedback: thanks to its highly optimized linear phase core, it processes the signal without phase distortion with an unusually short delay
Blue Cat's MB-7 Mixer v3.1.0 is a unique plug-in that splits the signal into several frequency ranges and allows you to mix and match them as if they were separate tracks
Blue Cat's Oscilloscope Multi v2.2.0 is a unique system for visualizing and comparing different tracks simultaneously in real time. This program will allow you to visualize the contents of several audio tracks in one window and compare them thanks to the XY review.
Blue Cat's ParametrEQ v3.5.2 is a 7-band parametric equalizer that combines the advantages of both digital and analog worlds. Its special non-linear features let you simulate the compression and distortion that can be obtained in an analog EQ or, on the contrary, a very clean and transparent digital EQ.
Blue Cat's PatchWork v2.3.0 is a universal patch panel in plug-in format that allows you to connect up to 64 plug-ins in one instance in any sequencer. It allows you to combine effects in series or create up to 8 parallel chains that can be activated independently.
Blue Cat's Protector v2.1.0 – stereo brickwall limiter with customizable dynamic characteristics. You can use it on the master bus to protect the audio output from overload, limit the overall volume and improve the perceived volume due to the very transparent frequency characteristics.
Blue Cats Stereo ParametrEQ v3.5.2 is a 7-band parametric stereo equalizer based on Blue Cat technology, promising the best analog and digital worlds in a stereo system.
Blue Cat's Remote Control v2.3.2 – a set of plug-ins that allow you to monitor and monitor in real time several MIDI controlled plug-ins or devices from one customizable user interface
Blue Cat's StereoScope Multi v2.2.0 – a unique tool for visualizing the signal of several tracks in real time, which allows you to visualize the contents of several audio tracks on one screen and compare them thanks to the XY view
Blue Cats Widening ParametrEQ v3.5.2 is a 7-band parametric Mid-Side equalizer based on Blue Cat algorithms, allowing you to expand or reduce frequencies.
About this release
The release by other group is cracked demo. Our release is full version and
works under legit ProTools thanks to the keygen level work. Also, because
demo version has constant silent funcion (restriction), registered legit
version performs better than demo version. That's why we stopped releasing
cracked demo long time ago. If you need missing plugin, buy and supply.