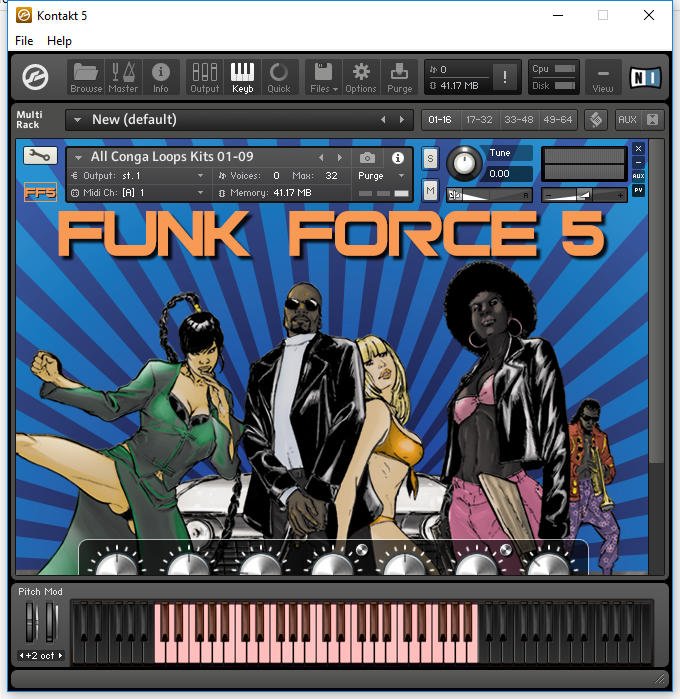 FUNK FORCE 5 is an outstanding product created by VIBE, a new indie label and subsidiary of FUNK/SOUL PRODUCTIONS – producers of over 30 best-selling sample CDs and Virtual instruments.
FF5 is a virtual instrument created for Kontakt 5.5 and above. You will need the full version of Kontakt to use this product.
FF5 was inspired by the great soundtrack music featured in so many classic 1970s-era Cop Shows and exploitation movies – like Shaft, Super-Fly, Coffy, Baretta, Starsky & Hutch, and many more. The music of this era remains as popular as ever, and can still be heard in many modern R&B and Hip Hop productions, TV shows, and the movies of Quentin Tarrantino and many others.
Now, those soulful, gritty, retro-funky sounds are available for you to use, Royalty Free, in a single Kontakt instrument – played live by the Funk/Soul Brothers, a group of professional studio and touring musicians who have been playing old school R&B, Funk, Soul, and Jazz for over 40 years.
Funk Force 5 contains 15 massive song-kits with 781 loops, plus bonus drum, congas, and wah-guitar loops and one-shots – 1.37 GB of uncompressed wav data in all.
The FF5 Kontakt GUI controls are:
TREBLE – increases (turn to the right to) or decreases (turn to the left) the amount of high end.
BASS – increases (turn to the right to) or decreases (turn to the left) the amount of low end.
TAPE SAT – adds tape-style compression to the mix
DISTORT – adds guitar amp-style distortion. Use the button to turn this effect on or off.
PITCH – raises pitch (turn to the right) or lowers pitch (turn to the left), in half-tone increments.
VINYLIZER – adds sampled vinyl noise and dirt. Use the button to turn this effect on or off.
REVERB – controls the amount of reverb You can select the type of reverb you want by using the drop-down menu that can be found just below the Reverb knob.
The Song-Kits
There are 15 Song-Kits included in FF5. Each contains an entire song divided into individual instrument-loops, all of which are in the same key and tempo. You can arrange or cut-up these loops any way you like to create your own beats, hooks, rhythm section grooves, and horn section parts.
Each Song-Kit consists of 5 Kontakt Instruments: Drums, Bass, Guitars, Keyboards, and Horns. By default, all these Instruments have been assigned to MIDI Channel 1, tomake it easy to listen to all the loops in a Song-Kit at once.
If you use the default setting, you can play and record any instrument using just a single MIDI channel. In single-track (one MIDI channel) mode, you can create a mix by using each individual Instrument's controls to adjust volume, panning, and FX as desired.
If you prefer to work in multi-track (multiple MIDI channels) mode, you can assign each of the 5 Instruments in the Song-Kit to a different MIDI Channel.
Each of the 5 Instruments in a kit features a selection of loops, organized by color. The colored keys appear on the virtual keyboard at the bottom of the Kontakt player, and are arranged as follows:
Red keys = Drum Loops
Purple keys = Bass Loops
Yellow keys = Guitar Loops
Blue keys = Keyboard & String Section Loops Green keys = Flute and Horn Section Loops
Mixing & Matching Instruments From Different Song-Kits
Besides using the Song-Kits as is, you can also mix and match loops from different Kits to create your own original grooves and hooks. Kontakt makes this easy to do, as it automatically adjusts the tempo of any instrument-patch that you load into your DAW. And the FF5 GUI makes it easy to change the key of any Instrument patch just by using the Pitch control knob.
That said, when mixing and matching loops from different Kits, there is one issue that you should be aware of. By default, all of the Song-Kits are laid out so that there is a separate key for each Instrument and each loop. But if you mix and match loops from different kits, the key-maps will overlap at times.
As long as each Instrument is assigned to a different MIDI Channel, this won't cause a problem. But if you've assigned all the Instruments to MIDI Channel 1, you may find that pressing a single key may trigger more than one loop.
Details
– 15 kits
– 1.37 GB of uncompressed WAV content
– 105 Kontakt patches
– 781 WAV files
– Funk Force 5 contains 15 massive song-kits with 781 loops, plus bonus drum, congas, and wah-guitar loops and one-shots