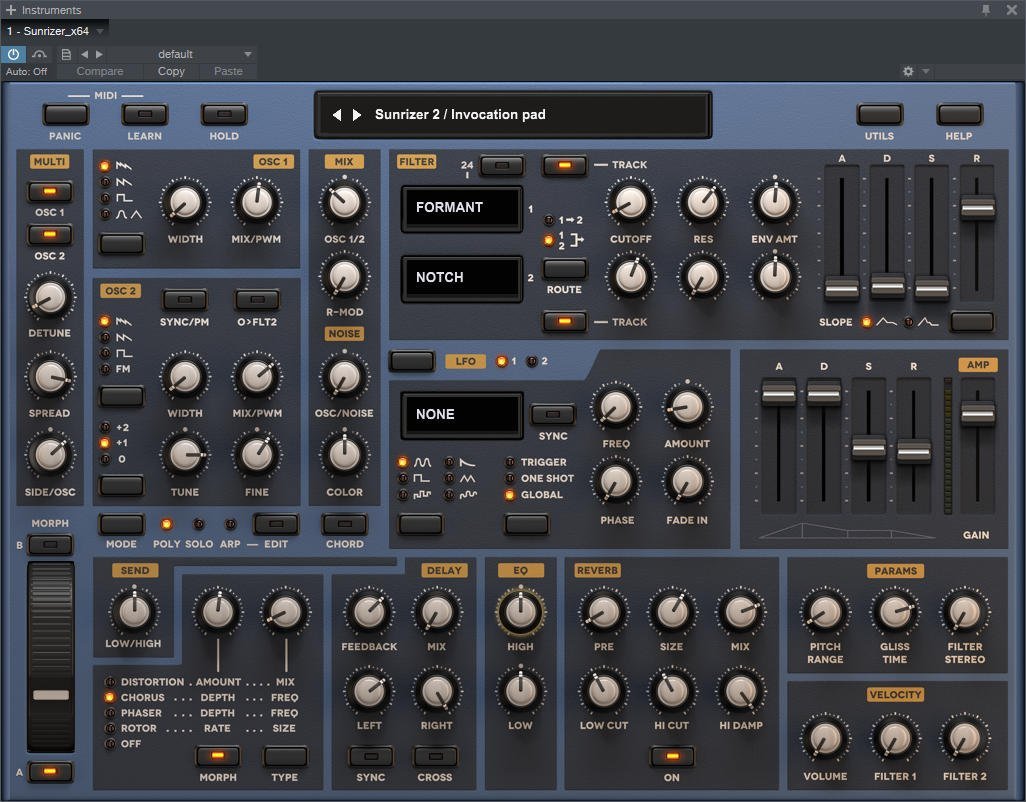 Sunrizer is built upon a familiar subtractive synth design – but with a distinct character and a host of new features. It starts with two oscillators and two sub-oscillators that deliver all of the basic waveforms and an emulation of JP-8000 "supersaw", with pulse width, frequency and ring modulation plus a unison mode. The oscillators are fed into two filters with serial or parallel routing, offering traditional low-, high- and band-pass modes as well as comb, resonator, waveshaper, and frequency shifter algorithms – and more. To set all this in motion, Sunrizer has two ADSR envelopes and two LFO generators that can modulate virtually any parameter.
Sunrizer has a very flexible effects section which boasts an input crossover filter that lets you apply them only on a specific part of the spectrum. There is a total of four effect modules – the first includes smooth chorus, phaser and rotor algorithms alongside distortion, followed by stereo delay, two-band equalizer and a spacious and highly tuneable reverb. Yet with all this power Sunrizer still keeps the processor load low, thanks to heavy code optimizations.
Where the Sunrizer's sound engine ends, the fun only starts. First off, each patch has two sets of parameters and the synth lets you morph between them. Sunrizer also sports an arpeggiator that has fully programmable sequences and supports per-note transposition and randomization – together with chord memory it allows you to create elaborate yet finely controllable single- or multi-finger passages.
Despite such an extensive feature list, Sunrizer has a single-screen design with finely crafted graphics that especially look good on Retina screens. All of its building blocks are logically arranged and easily accessible, with each individual parameter carefully calibrated. This lets Sunrizer give you a mix of utter pleasure and great productivity that is lacking in unnecessarily complex synths.
Specifications:
Bespoke synth engine with 24 voice polyphony and low processor load.
Total morphing of all parameters using modulation wheel.
Two oscillators with multiple waveform types, sync, PWM and FM.
Oscillator mixer with ring modulator and separate noise source.
Per-oscillator unison function with variable detune and spread.
Two separate filter units with serial or parallel operation and 16 different algorithms each: low-, high- and band-pass, notch, comb, formant I/II, all-pass, power low- and band-pass, waveshaper, resonator, resampler, low-pass + resampler, frequency shifter, analog low-pass.
Two ADSR envelope generators.
Two LFO generators with sine, triangle, saw, square, sample & hold and random waveforms; variable phase, fade-in time and different trigger modes.
Master effects including chorus, phaser, rotor, EQ, delay and reverb.
Arpeggiator with deep sequencing capabilities.
Chord memory function.
Factory sound bank with over 400 preset patches; full patch compatibility with the iPad version.
1.2.2:
– Windows update
– Fixed problem with wrong preset data after project save/load sequence
Year / Release Date: 05.2015
Version: 1.2.2
Developer: BeepStreet
Format: VSTi
Bit depth: 32bit, 64bit
Medicine: Present
System requirements: Windows XP, Vista, 7, 8, 10