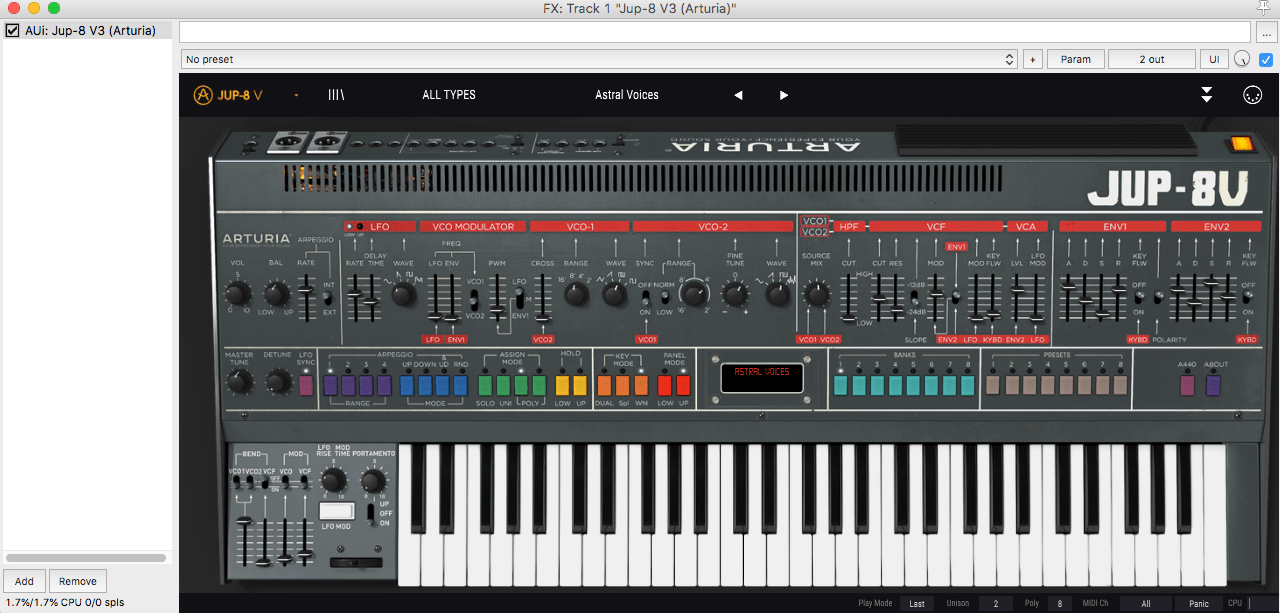 Year of release : 2018
Version : 3.3.1
Developer : Arturia
Developer website : Arturia
Platform : iNTEL
Format : VST, VST3, AUi
Interface language : English
Tablet : Replacement Files
System requirements : MAC 10.10+: 4 GB RAM; 2.5 GHz CPU.
7 GB free hard disk space
OpenGL 2.0 compatible GPU
Description : The Roland Jupiter 8 synthesizer is probably the least requiring a special presentation. Immediately after appearing on the music market in the early 80s, he instantly gained worldwide recognition and, despite his age, is still popular. So his appearance in the V Collection was predetermined.
The Jup-8V virtual tool looks completely real, and even the "paint", which has his name written in the corner of the case, is slightly worn. On the front panel there are controls with 54 synthesis parameters. The basic part of the synthesizer contains two oscillators with a set of switchable waveforms, a mixer, a single-pole pass-through high-pass filter (HPF) without resonance, a resonant low-pass filter (LPF) with switchable slope (12/24 dB / oct), LFO, amplifier (VCA ), two envelopes (for filter and amplifier). Moreover, any of the two envelopes can control the filter. The set of initial waveforms of oscillators is small, but they can be synchronized and modulated, receiving many new forms. When using frequency modulation, not only noise and bell bells are produced, but also clear "glass" sounds.
As for the "sound power", then in the version created by the Arturia engineers, the synthesizer also received new synthesis possibilities, as a result of which it became possible to make a sound that Jupiter 8 could never produce before. These innovations are assembled into four additional modules, which are accessible on the expansion panel.
New in version:
New features
KeyLab MK2 Integration
Click here to view the preset browser "Clear All" button.
Improvements
• Reworked preset leveling and consistency
Bugfixes
• Reworked effects tooltips
• Sequencer step indicator doesn't feature two step anymore
• Chorus Feeback and Tune Delay knob are no more swapped
• Effects rate tooltip is now displayed with a correct unit
• No more crashes when using a sample rate above 96 kHz
• No more crashes when changing effects types
• User MIDI configuration is now recalled when loaded from an external file.
• Click here to select it.
• Default MIDI configuration is now properly working
• Resisiting our instruments inside macOS applications in AU
• Various Komplete Kontrol / Maschine improvement
• No more crash when a "Song Select" message is received
• No more cracks and glitches.
• User preset saving feature is now working properly
• No more duplicated presets
• Live 10 doesn't crash anymore when browsing preset from AU version
• Exporting the export bank for some users anymore
• FL Studio on macOS