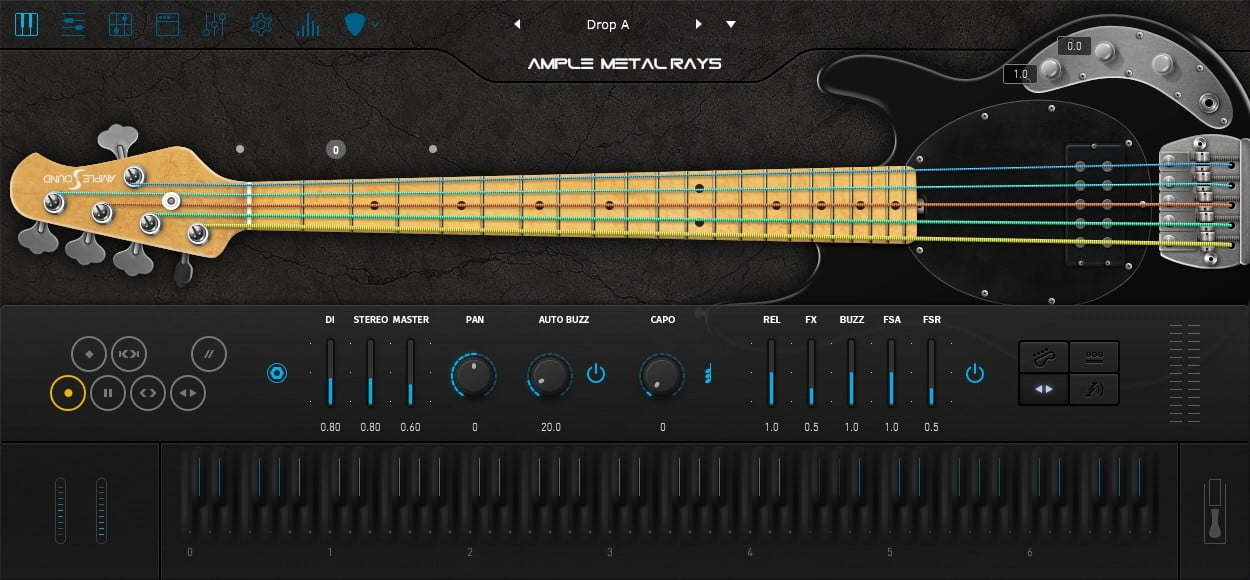 Year / Release Date: 09.2020
Version: 3.1.0
Developer: Ample Sound
Developer site: Ample Sound
Format: STANDALONE, VSTi, RTAS, AAX
Bit depth: 32bit, 64bit
Tabletka: present
System requirements: Windows: Windows 7/8/10, 64-bit only (32-bit not supported). | Mac: 10.9 or higher. processor with 2 GB RAM
---
Description: A weighted version of the bass libraries from Ample Sound. The Metal series is intended for fans of extreme and heavy styles of music, and the five-string MusicMan Stingray was used as a sound donor for Metal Ray5, which was played with a pick.
In addition to the classic capabilities of the bass guitar VST libraries, Ample Sound Metal Ray5 supports many alternative tunings (lower note – A0), can change the strength of the pick attack. The user can also configure the playback of various overtones that occur when playing with a pick.
Additionally, the library is equipped with a tablature player with support for 4- and 5-string instruments.
* CPC (Customized Parameters Control), any knob can be controlled by MIDI CC or automation.
* Polyphonic legato and smooth sliding.
* Pick Attack Accentuation function that can be adjusted to simulate the noise of a pick hit, bringing more variation and realism.
* Additional settings. Ample Bass offers additional tuning down to the lowest note of A0.
* Multiple Capo Logics – Provides various options for the automatic fingering algorithm for different performances such as solo, chorus, etc.
* Stereo DI signal.
* Automatic and manual string buzzing system.
* Built-in AMP system, including three classic AMP models: Vintage-15, Bass-500, Bass-Pro.
* 1×15, 2×10, 4×10, 8×10 cabinets
* Each cabinet has 4 mic options: U87, C414, MD421, and SM57.
* String Roll Editor: can display fingering, articulation, expression and even game noise clearly. Each note has 8 attributes – pitch, velocity, length, speed, articulation, legato, vibrato and bend.
* Dice – Random Riff Generator: Create new inspiration with one click, because it's not just a random algorithm. Rather, he summarizes the rules by analyzing a variety of musical scores.
* Multiple selections and operations, undo and redo, etc. Multiple MIDI instruments, including fixed velocity, legato length and limiting, select, move, draw, erase, split, glue, etc.
* High-end 8-band EQ, intuitive frequency response control, real-time visualization of the input and output spectrum, support for solo band.
* 2-Line Compressor – visualization of the input and output signal in real time, two detection modes RMS and Peak, support for soft knee, auto release and auto make-up.
* 6-Tap Echo – real-time visualization of stereo signal processing, can individually adjust parameters of 6 echo parameters: feedback, pan, volume, etc.
* IR Reverb – Provides four IR types: Room, Studio, Hall, and Larger Hall. 3D visualization of the IR spectrum.
* Tab Player can load and play several common guitar and bass tablature file formats. Users can download, display and play any specific track within the tablature file. When used in a DAW, the Tab Player also allows users to export the tablature as an audio file.
---