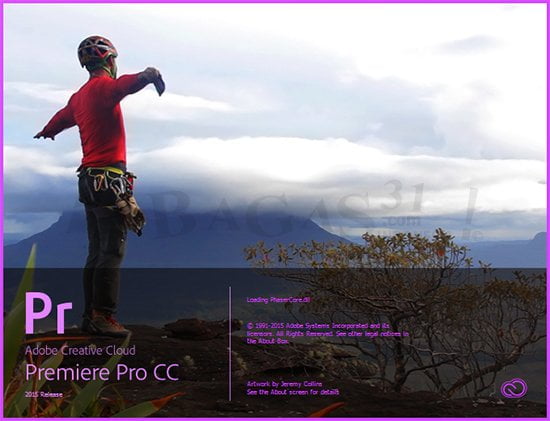 Software version: 2015.3 10.3.0 (202)
Official website: Adobe Premiere Pro CC
Language: Russian, English and other
Treatment: not required (the installer is already disinfected)
System requirements:
• Intel Core2 Duo processor or AMD Phenom II with support for 64-bit computing
• Microsoft Windows 7 Service Pack SP1 (64-bit), Windows 8 (64-bit) or Windows 10 (64-bit)
• (4), 8 GB of RAM (recommended (8) 16 GB)
• (4), 8 GB of available hard-disk space for installation; during installation requires additional free space (can not install on removable flash storage devices)
• To preview files and other working files requires additional hard disk space; the recommended amount – 10 GB
• Display with a resolution of 1280×800
• Hard disk drive (not less than 7200 rev / min) (recommended several high-performance hard drives combined into a RAID 0 array)
• Sound card with ASIO protocol or Microsoft Windows Driver Model
• Software QuickTime 7.6.6 to support QuickTime features
• Optional: Adobe-certified graphics card to support hardware acceleration functions
• To activate the software, the confirmation of subscriptions and access to online services require an Internet connection and registration *
Description: Adobe Premiere Pro CC 2015 – is a powerful, highly customizable editor for non-linear editing, with which you can mount the video exactly as you want it. Import and free association of any video from a clip captured with the phone, to the raw 5K, followed by the installation, which does not need to perform transcoding.
Additional Information:
• Perform video editing faster with Adobe Premiere Pro CC 2015 – the ideal tool for professional editors. Now available a variety of new features, including a built-in color correction with Adobe SpeedGrade CC 2015 extended support of the original formats, improved mounting feature material from multiple cameras, and so on. D.
• the Adobe the Premiere the Pro the CC 2015 is a part of Creative Cloud. Therefore, its users have access to all latest updates, and access to new versions available from the date of their issue. Improve your skills and master new tools thanks to the large and ever-growing collection of instructional videos. Through integration with the Behance can share their projects with other users and receive instant feedback on their work from designers from around the world.
Benefits of Adobe Premiere Pro CC 2015.3:
• Patterns of interactive text
Change the text in the compositions After Effect, not the Pro leaving the Premiere.
• Masking and Tracking
Create a feather mask to darken or highlight objects. These masks will follow the objects from frame to frame. Send the mask in After Effects via Dynamic Link to access the advanced features of tracking.
• primary video effects
when adding effects in the main clip they affect every part of the clip in the sequence data.
• Graphics, enhanced by a Mercury Playback Engine mechanism
Improved OpenCL processes debayer GPU for native RED support and Intel Iris allows to speed up work.
• faster editing
Working with large projects has become even more convenient; added a quick search and sort functions on the panel "Project". New editing features help the user to fulfill any request, such as turn combine frame or move the volume keyframe.
• New export formats
Export projects AS11 format used in broadcasting, or Digital Cinema Package format (DCP) to be shown in cinemas. Both formats include the associated metadata. You can also export audio in stereo Dolby Digital and Dolby Digital Plus is.
• with Typekit Integration
Find Typekit fonts in the Title menu and download them for use in projects.
• Auto save in Cloud
Perform automatic backups Premiere Pro projects in the Adobe the Creative Cloud.
• Support for new native formats,
a built-in support for ARRI AMIRA format cameras. When you import these projects apply to them LUT table as the main clip. It also supports Sony STtP formats, Canon RAW and CinemaDNG.
New in Adobe Premiere Pro CC 2015.3:
• Create a lightweight proxy versions. With easy switching between formats high and low resolution, you can mount the video on any device without unnecessary load on the system.
• Installation during import. During the background transfer of multimedia content, you can start editing the filmed material in virtually any format . After the Premiere Pro transfer switches to the copied material and releases the camera.
• Increased levels of system performance and stability. Built-in support for Apple technologies Metal and hardware H264 decoding allows for more realistic effects and reduces the number of dropped frames (only when the driver graphics Intel Iris for Windows ).
• Comfortable working with flowers. The instruments Limetri, new secondary colors of the HSL. Now you can isolate and fine-tune the colors, adjust white balance and adjust the color to the subtle tones. Apply new style SpeedLooks, just by clicking the mouse.
• Convenient keyboard shortcuts. Shortcuts accelerate the change process, allowing you to navigate between keyframes, and zoom in or out individual frames on the timeline. With the command "Delete effects", you can quickly cancel certain effects.
• Support video in virtual reality mode. The virtual reality mode, you can watch video from the viewer face, using pan and tilt functions.
• Subtitles. Create subtitles to be displayed on the screen. You can also change the visible subtitles on the latent and choose their font, color, size and position.
• Comprehensive support for high-definition formats. It supports the latest formats of source files, including of Red the Weapon.
• Extended language support. Now, you can create headers for even more languages ​​with different alphabets (like Arabic and Hebrew).
• Fast publication in social networks. you can instantly publish videos on popular sites such as YouTube, Facebook, Vimeo and Twitter.
• Optimization of work with libraries. resource management functions in read-only libraries Creative Cloud Libraries allow teams can use the resources, but does not allow you to change or delete them.
• An updated work environment "Libraries." The new working environment "Libraries" simplifies content search, and allows you to apply filters when looking in the Adobe Stock. New icons for the Stock licensed resources also added. You can view information about the duration and format of each video in your library and get links to view.
• And much more. Other updates and improvements: support color management interface, improved Lumetri area for more accurate brightness control, improved resolution and monitoring Rec2020 color space .
Features RePack :
• Type : Set.
• Languages ​​:. EN/MULTI
• Cut : Nothing.
• Treatment : carried out (thanks Painter in).
• The original distribution with clamping components, thereby able to reduce the size of the installer.
• Before installation, be sure to turn off the Internet!
• Note !! ! After installation, you will be invited to visit the site of the author repack. We press Yes or No as desired.