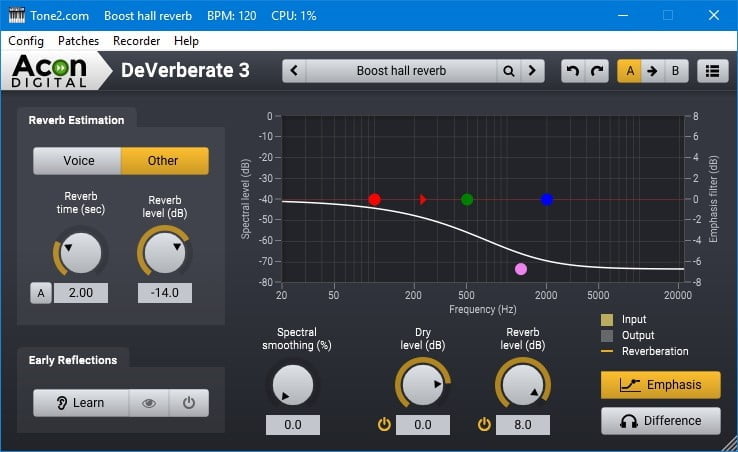 Year / Date of Issue: 10.2021
Version: 3 v3.0.3
Developer: Acon Digital
Developer site: Acon Digital
Format: VST, VST3, AAX, AU
Bit depth: 32bit, 64bit
Tabletka: present | R2R
System requirements: Windows 10/8/7, Intel Core i3 or AMD multi-core processor (Intel Core i5 or faster recommended) / OS X 10.8 or later
1 GB RAM (4 GB or more recommended)
1 GB free HD space
---
Description: The balance between direct sound and reverb is essential to the acoustic quality of an audio recording. DeVerberate is a plugin that can attenuate or enhance the reverb that is already present in the recorded material. The innovative real-time algorithm handles both mono and stereo recordings well, separating the incoming signal into direct and reflected sound, which can then be freely re-combined. The process itself can be observed on the built-in spectrum analyzer.
The main innovation compared to the previous version of the plug-in is the early reflections filter, which allows you to manipulate the echo located at a distance of 20 – 30 ms from the direct signal. It is these reflections that affect the timbre and color of the audio recording, and, in the case of an unsuccessful combination of factors, can greatly spoil the sound. This is especially true for recordings made in small rooms.
Plugin use cases:
Improving the sound of dialogues and recordings made in non-studio conditions.
Improving speech intelligibility (for example, for forensic purposes).
Reduce or enhance reverb in recordings.
Change the perceived distance of sources in the mix.
---