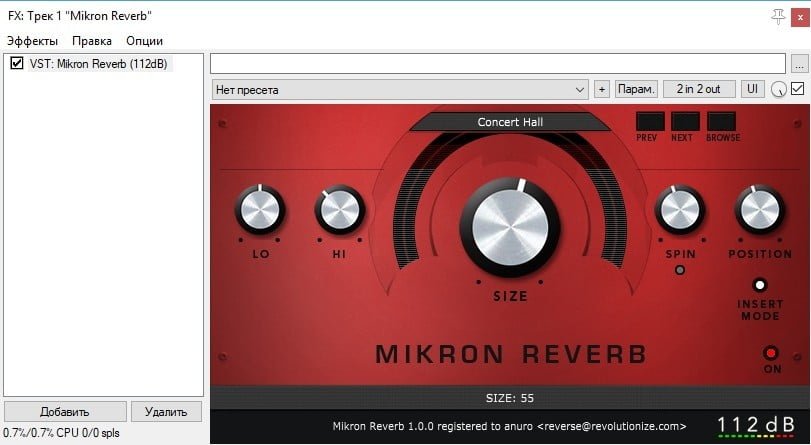 Year / Release Date : 06.2018 – 01.2020
Developer : 112dB
Developer's site : 112dB
Format : VST, VST3, AAX
Bit : 32 – 64bit
Tabletka : Ne required
System Requirements : Windows: 7 +
---
Description : Mikron Reverb from 112dB allows you to create incredible spaces with a few simple functions. The plugin has a "smart algorithm" that takes the hard work for itself
112dB announced that their popular Redline Reverb device now has a younger brother – Mikron Reverb. It has a simplified design, like a pedal, which indicates ease of use. Most of the parameters of the older version are hidden behind a few controls, and you can get the same high-quality sound without being distracted by the details.
Mikron Reverb contains a kind of "smart algorithm" that determines the ideal parameters for different spaces, so you can always get a great-sounding reverb, regardless of which knob you turn. It is said that using the plugin you can make very long tails, which allows you to use it to create atmospheric sounds.
112dB – Mikron.Cascade.v1.0.3
112dB – Mikron.Delay.v1.0.4
112dB – Mikron.Reverb.v1.0.0
112dB – Cascade.v1.1.9
112db – Morgana.v1.2.8
Big Blue Compressor v1.0.7
Big Blue Limiter v1.1.7
Redline Equalizer v1.0.11
Redline Monitor v1.0.11
Redline Preamp v1.0.9
Redline Reverb v1.0.15
Mikron Cascade v1.0.3
Mikron Compressor v1.0.0
Mikron Delay v1.0.4
Mikron Reverb v1.0.0
New:
112dB – Jaws.v1.0.1
112dB – Mikron.Compressor.v1.0.0
112dB – Mikron.Orbiter.v1.0.0
112dB – Mikron.Phaser.v1.0.0