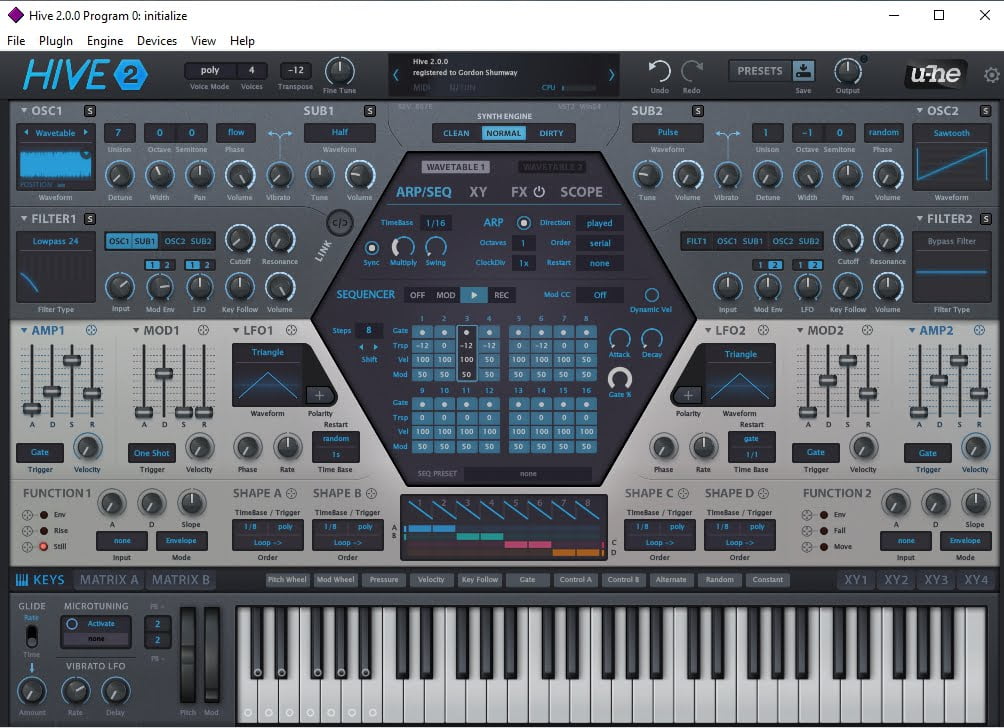 Year / Release Date : 05/28/2019
Version : 2.0.0.8676
Developer : u-he
Developer website : u-he
Format : VSTi, VSTi3, AAX * (* MOD)
Digit capacity : 32bit, 64bit
Tabletka : cured VR
System requirements : Windows 7 or newer 1GB RAM, more recommended Modern CPU (Sandy Bridge or newer recommended) 1000 × 600 or larger display
Description : Hive: easy synthesizer, ponderous sound. Smooth, sleek and super fast.
Hive was built for speed. Easy workflow, low CPU usage and a single-page interface mean you can quickly create your own tracks. Being "quick and easy" does not mean sacrificing sound quality or creative control. Hive is packed with features, controls and enough flexibility to create amazing sounds.
Thanks to the simple workflow and low CPU utilization, you can create amazing patches almost instantly. Hive 2 is quick and easy without sacrificing flexibility or sound quality. Version 2, filled with more controls than ever, opens up new possibilities for creative expression.
New in version:
New features and improvements

:
378 new presets
More wavetables
NKS-ready
New GUI
Shape sequencer
Function generators
Scope
Key Quantizer (play custom scales)
XY section expanded
New mod matrix modifier: Sample & Hold
More quantization options in mod matrix
New Seq Mod modulation source
Mod Assigners for Visual Feedback of assigned modulations
Modulation overview / unassignment via right-click on parameters
Newly added presets now easily findable through saved search entry
Fixed

:
Unwanted clicks on note attacks
Compressor parameters smoothed to avoid zipper noise
Selecting init preset
Modulating clock swing
Clock note
Strict host sync
Rare crash when trying to reopen a host project fixed
"Create New" and "Rename" dialogs sometimes not working (Windows only)
Improved mouse drag and drop selection on MIDI table page
Sustain pedal now working according to standard (0-63 = off, 64-127 = on)
Improved sustained pedal behavior when playing same note repeatedly
VST3 was reporting only one MIDI channel to the host
Ctrl A / B now working correctly in VST3 version
MIDI learn now working in VST3
Known Issues

:
Wavetables not loaded if they contain special characters (Windows only)
Tracktion only – Issue with VST3 and arp / host sync (use VST2 instead)
Specifications:
Low CPU usage, 3 different synth engines
2 oscillators with wavetable option, 16x unison and tunable sub-oscillators
Drag & drop modulation assignment
12×2 modulation matrix slots with modifiers for curvature, rectification, quantization, sample & hold, slew rate
4 user-definable XY control pads
Arpeggiator, step sequencer with realtime recording
Unique 8-step shape sequencer with 4 independent outputs
2 function generators can serve as extra envelopes, gate generators, LFOs, slew limiters
7 rearrangeable effects: distortion, chorus, delay, phaser, EQ, reverb, compressor
Panel copy and matrix options, save and save options
Solo buttons
Scope to view audio signal
Microtuning support (.tun files)
2000+ NKS-ready factory designs
Resizable UI from 70% to 200%