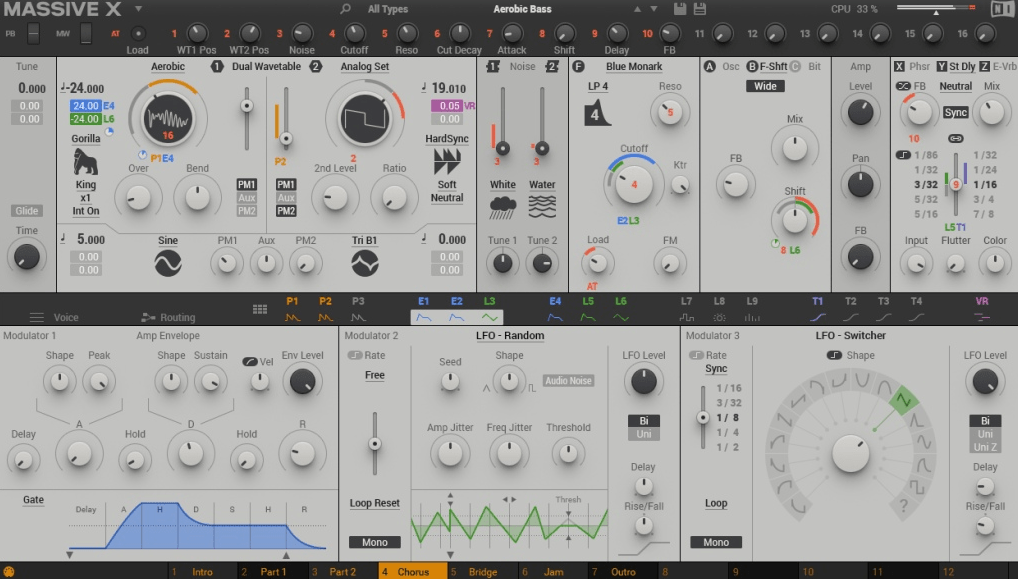 Year / Release Date : 11/06/2019
Version : 1.1.0
Developer : Native Instruments
Developer's site : Native Instruments
Format : VST / AAX (MODiFiED)
Bit : 64bit
Tabletka : Present
System Requirements : Windows 7, 8, 10 (64-bit, latest Service Pack)
Intel Core i5 or equivalent CPU, 4 GB RAM (6 GB recommended)
Please note: MASSIVE X requires an AVX-compatible CPU to run.
MASSIVE X does not currently run in standalone mode.
---
Description : The original Massive, which helped define the sound of modern genres such as dubstep and EDM, became synonymous with an exciting, visionary approach to synthesis that inexcusably swept its digital DNA. Known for its intuitive interface and sound potential – from huge bass lines and treble to the evolution of surrounding textures – it quickly became an integral part of many production tools.
Massive X is the new flagship Native Instruments synthesizer created by the same team as its predecessor. Based on modern architecture, it provides pristine sound and tremendous creative flexibility for both artists and sound engineers, allowing them to create, modulate and experiment with sound from a huge number of sources in any way convenient for them.
What's new:
MASSIVE X is only available as AAX, AU, VST Plug-ins in this version. MASSIVE X requires an AVX compatible CPU to install and run. The MASSIVE X Factory Library is a separate installation, be sure to install via NATIVE ACCESS.
ADDED Exciter, Amp and Mod Envelope displays reflect their actual state and respond to user input
ADDED UI Themes (Default, Dark, Light, Flat Default, Flat Dark, Flat Light). The flat themes increase compatibility with older graphic cards
ADDED New factory presets now have a separate section / type in Browser
ADDED Rise / Fall parameter in both LFO Switcher and LFO Random Envelope displays the actual parameter state and responds to user input
ADDED Grid labels to the Tracker
ADDED Full manual available as a download
FIXED Preset name is now saved with host project
FIXED Loading Massive X on systems with Intel integrated graphics (HD 3000, and other older cards) should not crash the host anymore
FIXED Clicking Previous / Next Preset in Massive X UI, when there are no user presets saved, does not crash the host anymore
FIXED AfterTouch (AT) and PitchBend (PB) labels and 1: 1 assignments are now correctly saved and recalled with preset
FIXED Initialising Uni / Bi in Tracker now resets both the offsets and the curve
FIXED Unit FX display page changing when new Insert FX page is selected
FIXED Basic / Custom menu state in Performer is now correctly saved and recalled with presets
KNOWN ISSUE FL Studio 20 VST: when loading a preset the interface will shrink. Fix: close and open interface
KNOWN ISSUE Cubase and Studio One: text input does not work correctly when Massive X is hosted in Komplete Kontrol or Maschine KPI view
KNOWN ISSUE Logic 10.4.5, Ableton Live 10: using the freeze function may result in incorrectly rendered audio – save your project before freezing the track
KNOWN ISSUE In some cases the INIT presets are not loading in Pro Tools. Loading the Massive X plug-in within Komplete Kontrol is a potential workaround
11/7/2019 Update: Fixed keygen crash