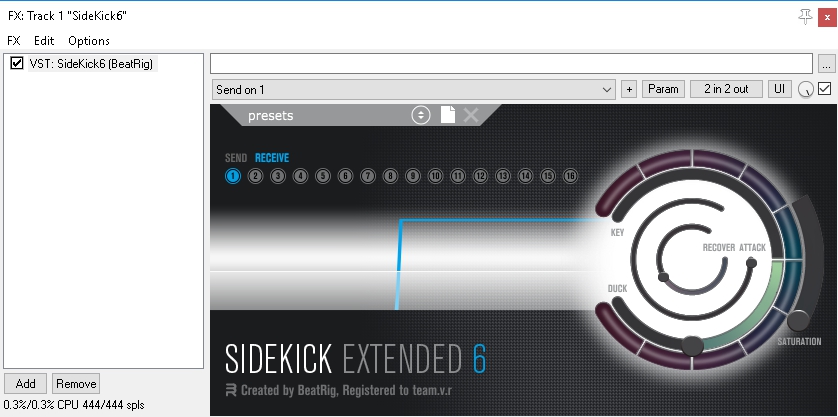 Year / Date of Issue : 05/11/2018
Version : 1.7.216
Developer : BeatRig
Developer's site : BeatRig
Format : VST
Bit depth : 32bit, 64bit
Tabletka : cured
System requirements : Windows 8, Windows 7 (latest service pack, 32/64 Bit), Intel Core Duo or AMD Athlon 64 X2, 2 GB RAM (4 GB recommended)
Description : SideKick Extended 6 is the easiest, but most comprehensive side-chain compression. With side-singing, you can change the volume of the sound of one track by the other's volume. Most often it is used on the bass track, when it starts to emerge (ducking) from under every kick kick. But you can do much more with SideKick, for example, create a side-chang reverb.
• ducking / keying in one continues slider.
• load up to 32 instances.
• 16 freely assignable send channels.
• sidechain filtering.
• sidechain monitoring.
• built-in tube saturation.
• easy to use interface.
• load / save presets.
Sponsored Links
New in version:
version // revision: 216
date: 11 Mar 2018
operating system: WIN
removeenvelope cache
fixfailure of preset loading in Premiere (while exporting)
version // revision: 200
date: 20 Dec 2017
operating system: WIN
changeAdded toggle switch for envelope cache in about screen
version 1.7 // revision: 198
date: 8 Dec 2017
operating system: WIN
newAdded envelope cache for Adobe hosts. possible fix to missing sidechaining in project