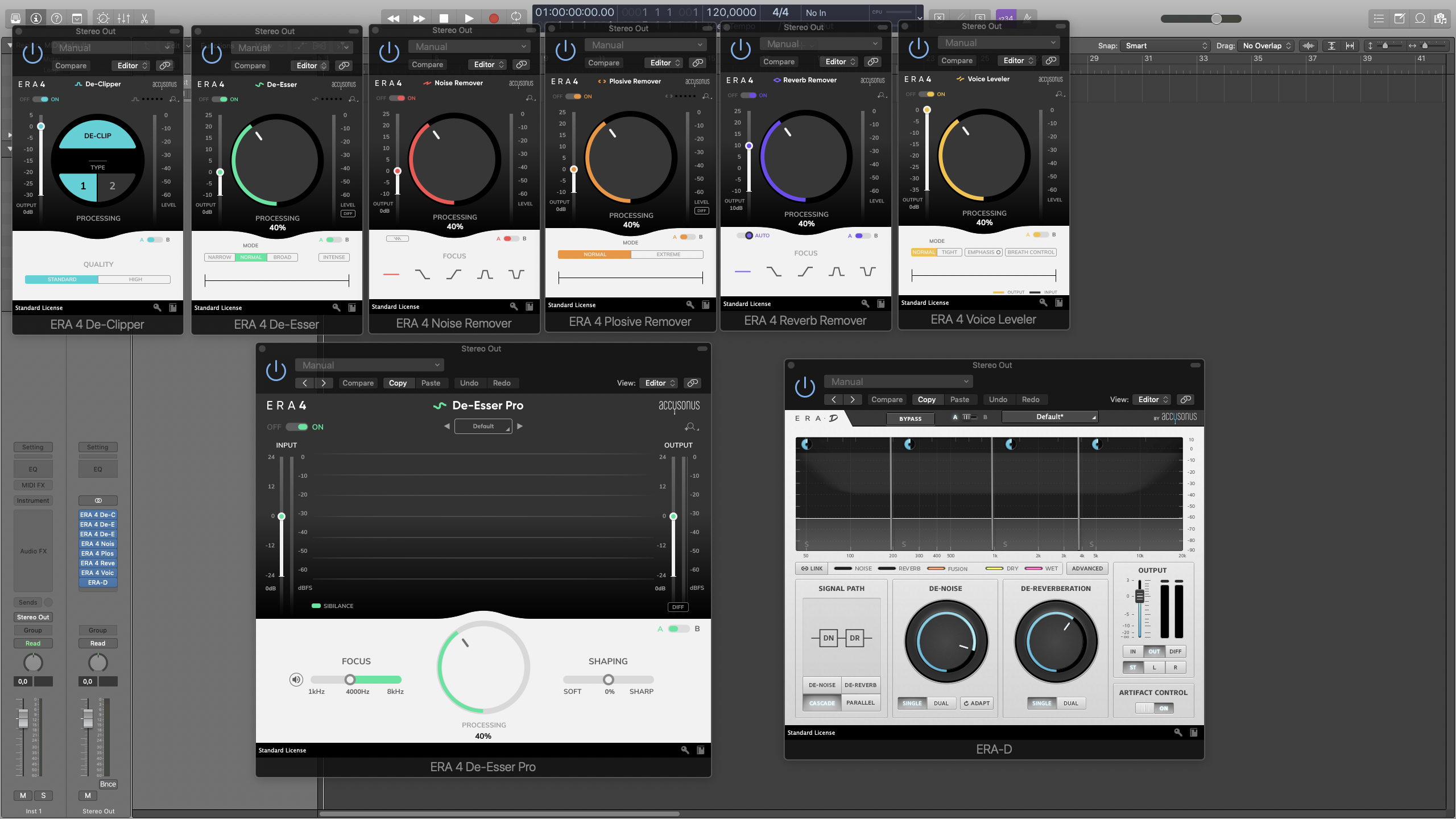 Year / Release Date : 12/12/2019
Version : 4.1.10
Developer : Accusonus
Developer's site : Accusonus
Format : VST / AU
Tabletka : Not required
System Requirements : MacOS 10.10 or later
---
Description : As a professional in the post and production of music, you are dealing with impossible terms. Opening another application and set in obscure parameters of the algorithm is simply not an option. Check out ERA Bundle Pro: the next-generation multi-patented audio repair that offers both fast and high-quality processing. Your workflow is worth updating.
ERA-D focuses on two things and does them exceptionally well. When you need deep and complex Denoise and dereverberation, ERA-D is the right tool for you:
• Multi-patented Denoise and Dereverberation algorithms
• Intelligent collaborative mode has a natural level of noise and reverberation counter-interaction, taking into account higher quality sound results.
• Dual Channel mode, which allows you to use an additional microphone to improve the sound quality of repair on your main microphone.
Noise Remover
A simple and elegant solution for instant noise reduction. Remover ERA noise automatically estimates the noise profile and allows you to adjust background noise. From the fan and HVAC noise to electrical noise (such as hum and hiss), you only need one handle. The ERA algorithm is multidisciplinary patented and therefore unique compared to everything that you have heard before.
Reverb remover
Although artificial reverb adds depth and richness to the sound, poor room acoustics can make your recordings sound distant and hollow. ERA Reverb Remover automatically evaluates the reverb profile and allows you to adjust the amount of recorded reverb in the advanced interface. Whether you want to restore location records or tighten musical performances, ERA Reverb Remover is your new secret weapon.
Explosive Remover
Loud explosives are a complex type of distortion and removing them manually can be a very time consuming task. ERA Explosive Remover automatically takes care of the problem, allowing you to polish vocals with the rotation of one set.
De-esser
A sharp hiss can affect voice / vocal tracks, even if you use the best recording equipment. Use ERA De-Esser to instantly smooth out sharp ESS es from your records. ERA De-Esser performs transparent processing in the frequency domain and is also great for other materials such as hissing plates or even full mixes.
Leveler Voice
Gain inconsistencies are common in both audio and video recordings. They often occur as a result of deliberate or unintentional movement of the speakers, imperfect microphone positioning, or heavy audio and video editing. Use this One-Button plugin to save yourself hours of manual gain adjustments.
De clipper
Clipping occurs as a result of a glut and usually sounds like a gross distortion. When you look at the loud parts of your input signal, you can see clippings as blocks of sound that are clipped. Restore cropped sound in seconds with ERA De-Clipper.
De-esser pro
This is a sophisticated, but quick and easy to use plugin for creating sound effects. It offers a precision de-essay and a customizable audio recovery feature. Based on accusonus multi-patented algorithms, De-Esser Pro simply works and allows you to effectively remove recordings from audio recordings.