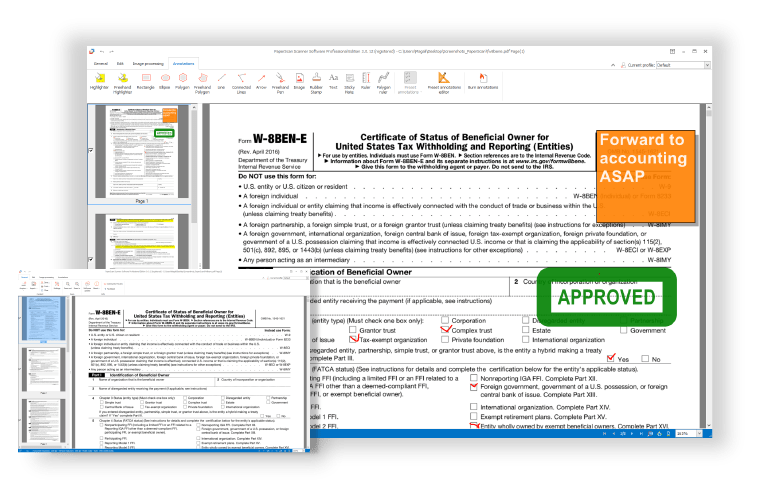 ORPALIS PaperScan Professional Edition 3.0.18 Multilingual
PaperScan Scanner Software is a powerful TWAIN & WIA scanning application centered on one idea: making document acquisition an unparalleled easy task for anyone. But it also provides advanced features like OCR, annotations or color detection. The Professional Edition of PaperScan Scanner Software is the most complete Edition providing professional end-users with all features needed in document (image and PDF) acquisition, processing and efficient storage domains.
Main Features:
– Universal Scanning Application
– Automatic Color Detection
– Import Images and PDF documents
– Annotations
– Image Adjustments and Enhancements
– Various File Formats Saving
– Batch Scanning With Separator Sheets Support
– Quick-Scan Mode
Features of Professional Edition:
– Unlimited batch TWAIN & WIA scanning / import.
– Save as single page PDF/A, TIFF, JPEG, JPEG 2000, PNG, JBIG2, WEBP.
– Save as multipage TIFF, JBIG2 and PDF/A.
– Save as PDF/OCR.
– Image processing during batch acquisition: auto-deskew, angle rotation, borders removal, punch holes removal, negative.
– Automatic blank page removal.
– Support for scanning with separator sheets.
– Post Image Processing: color adjustment, color space conversion, effects, filters, crop and more…
– Automatic color detection.
– Annotation support.
– PDF Encryption support (read & write).
– Flatbed and document feeder support.
– Duplex scanning support.
New in PaperScan 3:
– New User Interface with many bug fixes and better performance.
– New Settings panel.
– More than 20 new filters and effects.
– New despeckle filter in batch acquisition/import filters.
– Improvement of all document imaging filters such as Auto – deskew, punch holes removal…
– Improvement of the automatic colour detection engine.
– Support for automatic image orientation added.
– Replacement of autocrop by automatic black borders removal in batch acquisition/import filters.
– ICM support for image import.
– Support for 60+ OCR languages added.
– Support for SVG, EMF and WMF file format added.
– New advanced printing dialog to specify alignment, adjustment, orientation…
– New profile manager to create, remove and switch configuration settings.
– Support for custom keyboard shortcuts management added.
– Pre-set annotations support with a featured designer.
– New polygon ruler annotation.
– New preview feature in scanning wizard.
– Improved support for camera devices.
– Improved support for large bitmap handling.
Whats New:
Improved format handling.
Improved page orientation detection accuracy.
Fixed a bug with the "Keep source open after scan process" feature. This option is also disabled by default.
New feature in the scanning dialog box: "Show device user interface before scanning".
Improved OCR accuracy and speed.
Battery of minor bug fixes.