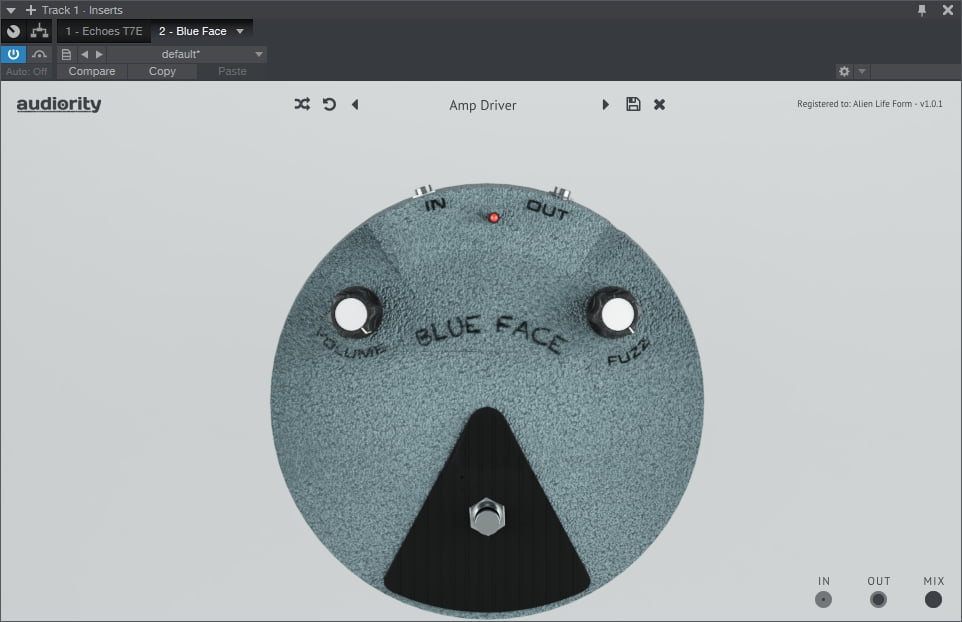 Year / Release Date : 05.2019
Version : 2019.5
Developer : Audiority
Developer site : audiority
Format : VST, AAX * (* MOD)
Digit capacity : 32bit, 64bit
Tabletka : cured
System requirements : Windows 7 or later Intel i5 or higher 2GB RAM
Description : Plugin set consisting of:
Big Goat v1.0.1 – Virtual simulator of a rare pedal fuse.
Blue Face v1.0.1 —Virtual Simulator of Vintage Pedal Fuse
Deleight v1.1.2 – Stereo Multiple Delay Processor, based on hardware processors of the 90s.
Distortion 1 v1.0.1 – analog model vintage distortion plugin.
The Echoes T7E v1.2.0 is an accurate model of a vintage tube magnetic echo created in Italy in the early 60s.
GrainSpace v2.0 is a granular processor focused on the granularization and reverberation of the incoming audio signal in real time.
Harmonic Maximizer v1.1.2 – is a multiband exciter and volume shaping plugin that will make your tracks more powerful and more alive.
LDC2 Compander v1.0.2 – Analog optical compressor and expander with replaceable optical circuits, a preamplifier and an output stage. LDC2 offers a unique compression character, providing smooth and warm dynamic processing for mixing, mastering and live performances.
Polaris v1.6.1 is an echo / reverb plugin based on early hardware digital reverberations of the late 1970s and capable of providing echo, atmosphere and reverberation from a single multipath delay line.
Pre X7 v1.1.2 is an analogue modeled preamplifier based on the iconic vintage tube equipment, mainly designed for bass, and which we modified to make it work with several sound sources.
Side Filter v1.2.2 – High Pass filter designed to remove low frequencies from the Side component of the stereo mix.
The Abuser v1.4.0 – aggressive distortion effect, ideal to give you a unique sound to your guitars, bass, synthesizers, drums, etc. We programmed the rich sound of the distortion effect to match both classical and modern music styles.
TS-1 Transient Shaper v1.2.3 is a frequency transient shaper designed to control attack and sustain of an incoming signal. Thanks to our concept of "Compression Saturation", TS-1 works great to add warmth and drive to your drum tracks without losing dynamics.
Tube Modulator v1.1 – is a collection of tremolo, vibrato and other positional effects. In addition to the usual effects, the plugin also offers emulation of the Leslie, Panner and Wow Flutter effect. The user can select the used emulation with the help of a special regulator, as well as adjust the shape of the sound wave using the LFO knob. In the center of the interface is also a special display that displays the amplitude and signal changes in real time.
XenoVerb v1.1.0 is a versatile reverb processor with classic and creative algorithms, providing a wide range of reverberations with a neat and simple interface.