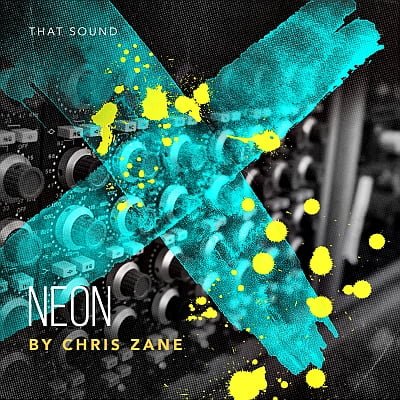 Publisher : That Sound
Website : iwantThatsound
Format : WAV, ABLETON, REASON, EXS24, MACHiNE 2, BATTERY 4, KONTAKT 5, TRIGGER 2
Quality : 24 bit 48 kHz stereo
Description : Sometimes you just need to be brave. Nothing passive or thoughtful. There are no nuances or subtleties. Sometimes you just need to make a statement … like neon colors in a world of pastel tones. NEON is a conceptual library compiled by an extraordinary producer and engineer, Chris Zane.
As the name implies, these drums are bright, bold and powerful. They are loud and proud. But let's be honest, they're not loud just for the sake of loudness. Our industry is oversaturated with "sonorous" and "knocking" indie rock drums and the like.
These drums are more colorful, which ultimately makes them more practical and suitable. Expressionist artist, Jackson Pollock once said: "Every good artist draws what he is himself." NEON is a direct reflection of its designer Chris Zane.
Such albums as "Matter" and "When the Night" of Indy Rock's legends. Lucia demonstrate a unique style of production and mixing of Chris. NEON drums with a wonderful ironic feeling and a great story. For example, some of the drums are old, but quite explosive.
Some of them are dense and dry, not being meek or quiet. The central element of the library is the customized Eames kit from CZ – the handmade Bay Stater, Joe Mac. And, of course, this is all equipment – vintage Neves, Pultecs, API, Chandler, old Neumanns, AKG, and some amazing UAD plug-ins.
And if all this is not enough, NEON contains the performance of the legendary drummer The Sound Icon, Paul Maburi.
Sponsored Links
Content
• SAMPLES : Over 1900 Total Multi-Velocity And One-Shot Samples, 580 Snare Samples (5 Snares In Multiple Velocities + 16 One-Shot Snare samples), 151 Kick Samples (2 Kicks In Multiple Velocities + 16 One-Shot Kick Samples) , 17 Toms, 1 Hat With 5 Approaches, 5 Cymbals (2 Crashes + 3 Rides) With 5 Approaches (Bell, Crash, Sizzle, Tip, Ride), 10 Claps, 13 Fx. All Of The Multi-Velocity Samples Come In (Up To) 6 Mix Variations Including Natural, Big, Dry, Overhead, Rooms, AMS.
• LOOPS : 423 Individual Loops, Tempos Ranging From 80-130 Bpms In A Variety Of Grooves, featuring A Variety Of Instruments.
• PRESETS : Ableton, Reason, EXS-24, NI Maschine 2, NI Battery 4, Trigger 2 And NI Kontakt 5.