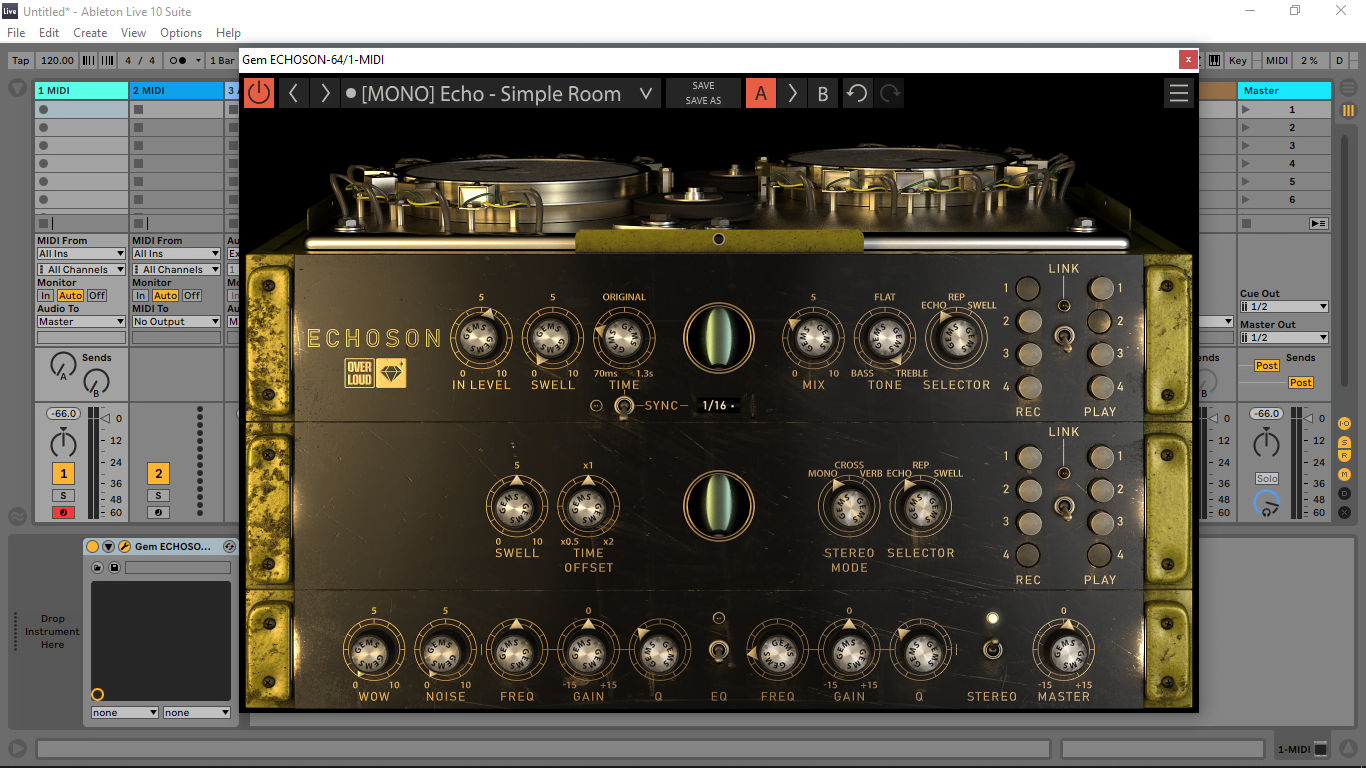 Year / Release Date : 03/25/2018
Version : 1.0.0
Developer : Overloud
Developer Website : Overloud
Format : VST / VST3 / AAX / AU
Digit capacity : 32bit, 64bit
Tabletka : present
System Requirements :
APPLE SYSTEM REQUIREMENTS
Macintosh® Intel Core i3 1.4GHz with 4Gb of RAM, 1280×800 video. Mac OS X 10.6 Snow Leopard and above are supported.
WINDOWS SYSTEM REQUIREMENTS
Core i3 1.4GHz with 4Gb of RAM, 1280×800 video. Windows Vista, Windows 7, Windows 8 and Windows® 10 are supported.
Description : ECHOSON is an overloud re-creation of the legendary delay unit on the magnetic drum of Italy. Its unique tone determined the sound of Pink Floyd in the 70s. ECHOSON extends the capabilities of the original equipment and combines the flexibility of the digital world to the character of analog processing. Overloud ECHOSON is a new weapon to unleash creativity and bring new, original sounds to life. Her latest product is a new high-end Overloud plugin line, called Gems, dedicated to mixing and mastering. Many modern engineers use it on vocals, keyboards and drums to achieve a unique tone. ECHOSON, a revolutionary simulation of the legendary drum Delay, was originally produced by the Italian company Binson. ECHOSON goes beyond the simple modeling of a source block by adding features that are not available in hardware. One of the main directions of the addition is the ability to double the processor panel, so that it works on stereo pairs of audio channels with lateral feedback between the channels.
Main characteristics:
Super-realistic recreation of the lush ethereal original tone
Independent control of each playback head
Stereo operating mode with separate controls for left and right
Dual-mono, Stereo and Reverb modes allow to create wider soundscapes
BPM sync option
Built-in parametric equalizer
User adjustable wow / flutter and electrical noise
Multilevel undo-redo
A / B Comparison
Scribble Strips: take notes anywhere on the plugin panel