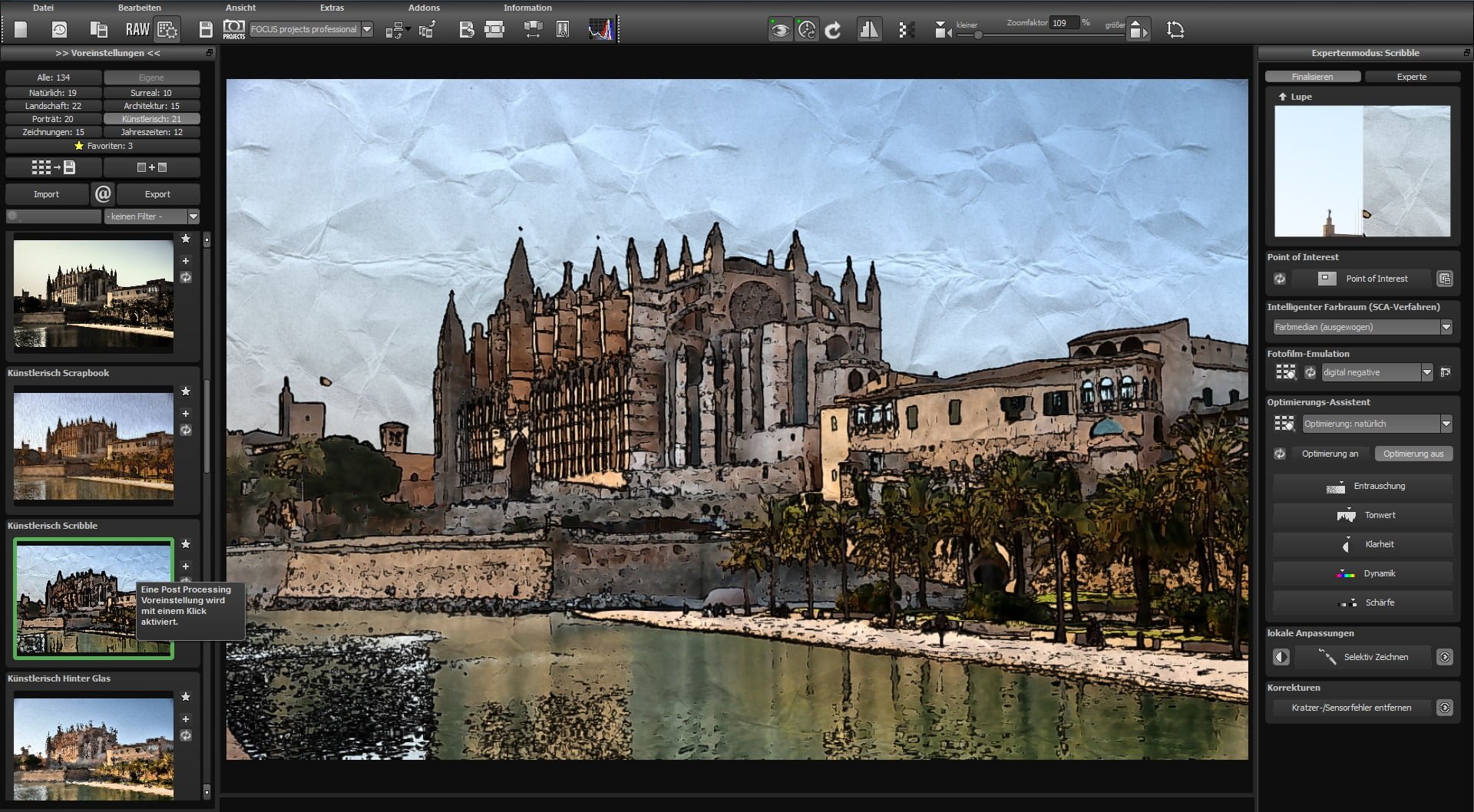 COLOR projects 4: Colour Perception Lies in the Eye of the Beholder. Dull colours, matt shadows, cloudy sky, afternoon sun – the perfect light is hard to come by. Forget everything you have heard about photo editing to date, COLOR projects 4 is your magic wand for your photos. Enjoy photography and create fabulous pictures. fore!
– New: Selective photo editing with intelligent, sensitive outline recognition
– New: Quick optimisation assistant – desired effect with one click
– New: Full-fledged, free Lightroom Plug-in included
Colour Perception Lies in the Eye of the Beholder
You wouldn't believe how much information is hiding in your pictures. The software calculates at 64-bit precision and displays 134 image options at a single glance. COLOR projects 4 offers you much more than what you are used to from the standard filter programs.
The Key:
Just seconds after uploading your original image, COLOR projects 4 presents you with 134 versions of your photo. That's 134 ideas, 134 tips, 134 sources of inspiration… Every image is individually analysed and with the best possible effects, no example is like any other.
You Dedice how your image should look
You and only you decide how your image should look. Take on the role of artistic director – you gather all suggestions and select what you think is best. Of course, you can also edit by hand, thanks to the intelligent image optimisation, selective drawing tool with automatic outline recognition and 127 expert filters.
Selective Editing: Geometric or Brush with Intelligent Outline Recognition
It is often the case, that individual areas of an image have to be edited differently than others. The fourth generation of COLOR projects 4 masters this challenge perfectly and on top of that, is super flexible. The geometric selection function is excellent for large areas or clearly outlined objects, whereas the delicate and sensitive brush is best for trickier spots. That's right, sensitive since the integrated COLOR projects 4 corrector brush recognises structures and borders that you would like to modify, and the colours in those affected area are then emphasised.
Lightroom Plug-in for Maximum ConvenienceColor projects 4 selective Painting
A genuine plug-in ensures maximum ease and comfort when editing your favourite photos. Simply mark exposure series or images in your Lightroom library to then transfer them through the plug-in to COLOR projects 4. After optimising the shots, the results will be automatically imported back into Lightroom and added to the original images in your gallery.
Quick Optimisation Assistant: Desired Effect with One Click
Yet another function for those who would rather spend their time on beautiful images than tedious controls, algorithms and effects. The quick optimisation assistant does it all with one click. A romantic night scene? Low-key? High-key? Or maybe super-brilliant instead?
New Integrated Cropping
You can now crop and set picture detail at your own leisure directly in COLOR projects 4. Furthermore, COLOR projects 4 also assists cropping through graphic tools like golden section or Fibunacci spiral templates.
What's New in COLOR Projects 4.41:
– New: Selective photo editing with intelligent, sensitive outline recognitionColor projects 4 selective Painting
– New: Quick optimisation assistant – desired effect with one click
– New: Full-fledged, free Lightroom plug-in included
– 2016 State of the art photo editing
– 134 Handcrafted, fine-tuned presets for fantastic looks
– Intelligent optimisation from "Natural" to "Highkey"
– 127 Expert filters